The developers of the swish and swirling City tower officially known as the Pinnacle have appointed the branding consultancy Totality to 'seek to create a distinctive identity for the building, using its twisting roof as part of the brand'. The task will reportedly involve 'dropping original names for the tower such as the Bishopsgate Tower or the Helter Skelter'. This is a waste of money on a scale as monumental as the structure itself. Has history taught them nothing? Helter Skelter wasn't 'an original name' for the Pinnacle, it's a nickname. And once a tall building – even one several years from completion – has gained a popular monicker, no amount of marketing money will erase it. The phenomenon has been in existence at least since New York's
Fuller Building
was dubbed 'the Flatiron Building' more than a century ago.
Swiss Re had that message rammed home to them when they erected the bulbous tower at 30 St Mary Axe that is now known to all Londoners as the
Gherkin
. And if the Leadenhall Building is ever completed it will surely be widely called the Cheesegrater (a nickname invented by
Skyscrapernews.com
) whether British Land like it or not – and presumably they don't. Across the Thames, the constructors of the Shard of Glass have been smarter. They've given up trying to brand their forthcoming landmark as London Bridge Tower and adopted 'the Shard' as its official designation – even though the term was originally coined with disparaging intent by English Heritage, which opposed the project.
According to
UK Marketing News
, 'Totality is no stranger to branding on large-scale urban development projects, marketing the likes of No.1 West India Quay and Baltimore Wharf in the London Docklands.' These are hardly addresses on everyone's lips, unlike the Shard. Having pocketed the Pinnacle payout, Totality would be wise to advise their client that (after due consideration, prolonged brainstorming, much blue sky thinking and heavy investment in qualitative and quantitative research) they've concluded that the best way to market the project is to make use of a catchy name that's already gained widespread currency. But whether they do that or not, the rest of us will all be calling it the Helter Skelter when it opens in 2012.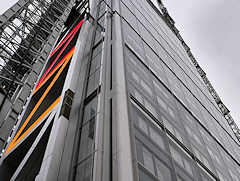 The Zzzz Building under construction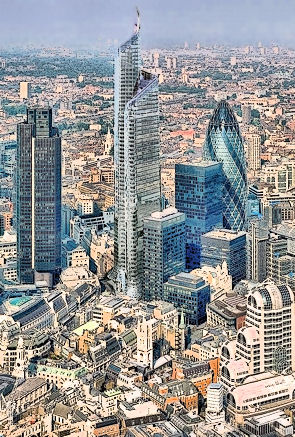 The Helter Skelter will overshadow its neighbours, Tower 42 and the Gherkin
The lesson for developers is clear. The moment your architects have finished their designs, come up with an imaginative yet unpretentious name for your new skyscraper or someone else may do it for you and there will be nothing you can do about it, however cheeky the sobriquet may be. Unless, that is, it looks as dull as the
Heron Tower
(shown below left), a structure so soporific that no one is likely to be bothered to refer to it by any handle at all, except possibly as the Zzzz Building.