A thriving but threatened street market, located off the southern end of Liverpool Road, near the Angel, Islington. Townhouses with rear gardens were built along what was then Chapel Street at the close of the eighteenth century. A fire engine house was erected in 1792 and heightened in 1822; it survives today but in poor condition. To the annoyance of the well-heeled residents costermongers began to sell their wares along the street and by the 1860s a fully-fledged and relatively reputable market was in operation. Official designation as a street market came in 1879. In 1882 John James Sainsbury opened his first Islington store at 48 Chapel Street, managed for a while by his first son, John Benjamin. The venture was so successful that the Sainsburys opened three more shops in the street, including their first branch specialising in poultry and game. By the 1890s Chapel Street had one of the two largest markets in the Clerkenwell and Islington areas, divided roughly equally between food and non-food stalls. Furniture, earthenware, second-hand clothing and drapery were among the most popular merchandise. The council renamed the street Chapel Market in 1936. A few mainstream retailers and fast food outlets now occupy premises towards the eastern end of the street but for the most part this remains a traditional and unpretentious market, selling mainly household goods and food. It is open every day except Monday.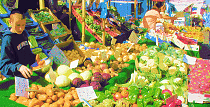 Despite its continuing popularity, Chapel Market is vulnerable to a future change of use owing to the high value of land in Islington.

The essayist Charles Lamb lived at two addresses in Chapel Street in the late 1790s. Madame Vasso, former medium to Sarah Ferguson, Duchess of York gave tarot readings at a sanctum in Chapel Market in the mid-1980s.