Bromley

Once a famous airfield and now a crowded residential district, situated two miles south-east of New Addington, Biggin Hill probably takes its name from a hilltop 'bigging' or habitation. It has been said that it "started almost in the middle of nowhere, and then grew." This process began when the Wandsworth speculator Frederick Dougal bought Aperfield Manor at an auction in 1895, selling off the land in parcels. Growth proceeded at a slower pace after Dougal's death in 1905, but by the outbreak of the Second World War the township was well developed and there was little further construction for nearly two decades. During the 1950s the church of All Saints, Peckham, was brought here brick by brick and re-erected as St Mark's.

When the Macmillan government decreed that every borough should undertake a programme of council house building, the reluctant Bromley seized upon this remote corner of its fiefdom as a suitable place to fulfil its obligations. Private builders, too, put up houses and flats wherever land could be acquired, prompting Pevsner's comment that it is "a place to make even the most ardent free-enterpriser admit the virtues of planning." Many houses are sited on the hillsides, resulting in split-level layouts with steep gardens. The absence of a rail link makes Biggin Hill a very affordable place to live and new properties continue to be built wherever planning permission can be obtained, with growth between 1971 and 2001 estimated at around 40 per cent. Given the lack of public transport, it is not surprising that Biggin Hill's households have more cars than any other ward in London.


Biggin Hill occupies an important place in British history as a military airfield, familiarly known as 'Biggin-on-the-Bump' or simply 'Biggin'. In the Second World War it became a Spitfire station and was attacked a dozen times during the Battle of Britain. Offensive missions flew from here after the pressure for defensive action was relieved. The airfield was downgraded to non-operational status in 1958 and the RAF finally left in 1980. The North Camp plays host to Battle of Britain Open Day in September, as part of the Biggin Hill International Air Fair. When Croydon Airport closed, most of the operators who had not already made the move came across to Biggin Hill, which is now the most popular light aviation centre in southern England.


Postcode area: Westerham, TN16
Population: 10,131
Further reading: Josephine Cole, Biggin Hill: Then and Now, Tempus, 1999
Websites: Biggin Hill has amassed one of the largest collections of inactive websites in London. Biggin Hill Online, the top result in a Google search, is very rarely updated. Click the banners below for an active pictorial history site and relevant commercial sites.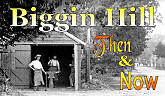 Text and selected images are reproduced with the permission of Chambers but may differ from the published versions
All content © 2005–2010